Credentials
Jan Ali is a private designer-haute couture milliner in Washington, D.C. She is a member of the Headwear Information Bureau in New York City under the directorship of Casey Bush. This organization works closely with the fashion world to promote the wearing of hats throughout the country. Ms. Ali's hats are informally modeled at the world-renowned Tavern on the Green Restaurant in New York City, as well as other fashionable New York City restaurants. Photographs of her hats are shown on the worldwide web at various sites, one being the trendy fashion Internet magazine, "Totally Cool.net."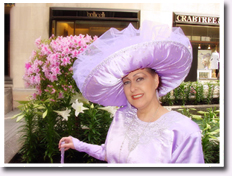 Her hats are also featured in New York's "Fashion Mannuscript" magazine . Jan Ali has won awards for her hats at Tavern on the Green Restaurant's annual Easter hat contests held in years 2001 and 2002. She was awarded prizes for "Most Outstanding in Best of Show" in 2001 and for "Most Beautiful Easter Hat" in 2002. Ms. Ali has donated hats and contributed her time by participating in celebrity fashion shows for such charities as the Alzheimer's Association of the National Capital Area in Washington, D.C. and the SIDS Foundation in New York City. She is also active in charity events sponsored by the international polo community.
Background
Ms. Ali has resided in Washington, D.C. for over 25 years. Her formal education includes a B.S. degree, with honors, in the Administration of Justice from the American University in Washington, D.C. Even though her education and career training was in the legal arena, Ms. Ali put her energies and skills into learning the millinery trade. She acquired a passion for beautiful hats while growing up in her hometown of Jeannette, Pennsylvania. As a young lady, she admired the lovely hats she saw in church on Sunday mornings.
Over the years Ms. Ali began to cultivate her talent for hat making by using her artistic wizardry in the trimming of plain, inexpensive, machine-made hats. Her creative flair for the use of netting, veils, feathers, flowers, and ribbons gives her hats an elegant look that transforms them into glamorous hat designs of a bygone era. Ms. Ali also developed a skill for working with gorgeous, couture fabrics that she measures, cuts, and drapes softly over a hat to give it a one of a kind appearance. Fabric draping gives a touch of class to the hat wearer's ensemble. One only has to look at the Royals in England to see this beautiful matching of hat and outfit.
After spending some time on learning about hat trimming, Ms. Ali attended classes where she was trained in the ancient art of hand blocking straw and wool felts by steaming and then shaping the fabric over wooden blocks that are carved into various shapes and sizes to form the hat crown and brim. This hand blocking method gives the hat a softer and more comfortable fit. Ms. Ali was now ready to follow her passion for creating vintage hat designs with a look of the early 1900s, 20s, 30s, and 40s. These designs are fun for wearing by today's modern woman.
Ms. Ali consults with each individual client to determine their expectations and desires for a particular hat and then designs, manufactures, and sells the hat directly to the client. She prefers this old fashion method of selling directly to the consumer rather than wholesaling to the stores. In this way, she can create an individual style designed for the particular needs of the buyer. The completed hat is then unique to that customer. She uses only the finest velour wool and lightweight parisisol and parisinamy straws. Most of her fabrics and trimmings are imported from Europe and are of the highest quality, e.g, French brocade ribbons and fine Swiss Organdy material. She shops both locally in the Washington, D.C. area and in New York City for the most elegant fabrics and trimmings. Her costs and labor time will determine her charge on a particular hat.